Introduction

This is test #2 I have done with the R9s, and the emphasis here has been almost exclusively directed towards ammunition evaluation through this gun. Much was covered in the initial range test, available HERE .

---

The prime intention was to evaluate Speer Gold Dots, but I also had some Federal C9BP Hi-Shok, and a few remaining Federal Hydra-Shoks, plus my last Remingtom Golden Sabers. These latter two in fact were tried in that first range test. Two generous forum members - ''Murray Nevada'', and ''FJC'' together kindly supplied Speer ammo and the Fed' Hi-Shok. Many thanks to them.
---
The program was essentially broken down into three main sections.

First a shooting comparison on simple targets drawn up and printed, comprising half letter paper with a 3" center orange sticker. These tend to tear a bit but otherwise work fine. Do bear in mind that this shooter is not olympic class! I have some problem with iron sights due to aging eyes and will freely admit, I find small guns quite difficult. The R9s is tho the best small pistol I have yet to use.

During these tests chrono data was taken at the same time, this being the second main aspect. To avoid constant shuffling of target positions however .. it did mean finishing up with separate five shot strings for chrono results, at each distance.

Three distances were used, 21 feet, 15 feet and 9 feet. The gun was used off sandbags but not exactly ''benchrested''.

Finally, a (heavy!!) wet paper pack was used to try and establish some form of expansion comparison. It is not ideal but in fact proved quite useful.
---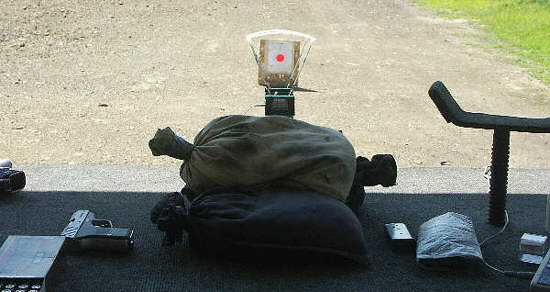 The set up used is shown in the pic above ....... very simple, bench and sandbags, the chrono at 6 feet distance and target at appropriate position. ''Ground skips'' are not a problem here. The only down side was, having to do this during afternoon hours, the sun had gotten round behind target and this only got worse.
---
---
Back to Top