If no menu
or buttons show
ensure you have
scripting enabled


Please give time
for menu to load



Video's of takedown and reassembly
This is an attempt to show one way at least for dealing with takedown and reassembly of the R9. It is what works for me but I do realize that it will not suit everyone.

These videos are a first attempt really and I hope over time to try and shoot further ones, more biased toward the use of tricks and tools. There are two versions of each - the smaller file being to assist with folks on dial-up, and the larger file being slightly better for resolution - although as the files are heavily compressed anyways, they are not as clear as I would like. Right click on the link of choice and save the file to disk.

Oh and should anyone find the accent odd - I was born and raised in England!!

Please note! - prior to my updating this material, please check out the latest manual pages on disassembly and lube - things are different with lubrication. So, where I might refer to grease we now are talking good quality oil.
---
Here we see the use of a simple ordinary chopstick, as a device to hold open the slide while removing cross pin. Other methods have been used using custom made ''stop-sticks'' - but it really does not matter too much as long as what is used has the desired result!

Overall hopefully the commentary within the clip explains what is going on.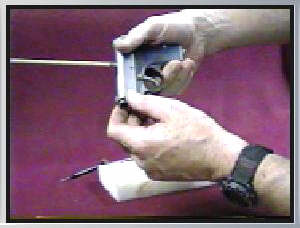 R9 Takedown, lower res (1.4Mb)
R9 Takedown, higher res (3.2Mb)

Right click on the link of choice and save the file to disk.
---
This process is certainly the hardest part of dealing with the gun - equally it is harder to portray well with video. I make use here of my reasonable hand strength, to hold open the slide for short spells while carrying out insertion of the pin - other methods may need devised by some.

The insertion of the recoil assembly is another stage where sometimes the use of channel lock pliers may be needed. To marginally facilitate my method shown, I suggest a simple smoothing process.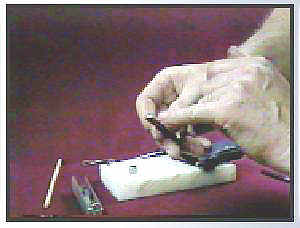 R9 reassembly, lower res (2.0Mb)
R9 reassembly, higher res (4.6Mb)

Right click on the link of choice and save the file to disk.
---
Back to Top