If no menu
or buttons show
ensure you have
scripting enabled


Please give time
for menu to load



Stills Sequence Video of takedown, reassembly and Lubrication.
Well, another video but this time based on a set of still images. These were taken by forum member "TW" when he was at the factory and Eric ran through aspects of gun maintainance by demonstration.

This video along with the ones of my own operations should hopefully, between them, help most folks new to the proceedures to manage better. The pic's below are just sample frames from the whole video.

There are two files available. one of which has been reduced rather harshly, but that one might help for folks relying on dial-up. If possible take the large file which displays at 320x240 and is clearer. In fact the Media Player window can be stretched a bit bigger and still not be too bad.

Late addition (12/25/05) - I have also put the stills into a PDF file (1.9Mb) so if you want that for reference it might be handy to have as well. Right click on the link and do a 'save as'' to store on your own hard drive.

Please note! - prior to my updating this material, please check out the latest manual pages on disassembly and lube - things are different with lubrication. So, where we see reference to grease we now are talking good quality oil.
---
Just the intro screen, showing a hopefully not too unfamilair small pistol! This one is in case you are unaware - one of relatively few in the early days from Farmingdale and so a ''silver'' color frame, and the earlier blue CF grips. Frames now are a very dark grey color and grips currently black.

Thanks again due to "TW" for taking all the pictures. Background music is by Jennifer Athena Galatis - "Spheres Opening Theme".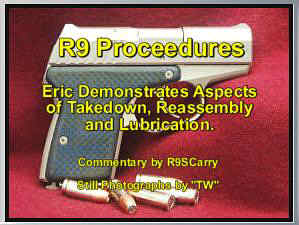 Video stills compilation - lo-res (2.2Mb)
Video stills compilation - hi-res (8Mb)
PDF file (1.9Mb)
---
Back to Top