If no menu
or buttons show
ensure you have
scripting enabled


Please give time
for menu to load



It would seem that fitting of Trijicon night sights is not perhaps too feasable on the R9s. Forum material on that subject.

One alternative I have tried to improve sighting when there is some light, is application of ''Bright Sights'' high visibility paint. I obtained mine from Charlie Parrott who is the maker of the Smart Carry .

The ideal for use of this paint would be to have small machined ''dimples'' already in the foresight and rear sight shoulders ..... though I doubt this will be practical from a production point of view. It would though permit the paint to sit in a recess and so be protected and more uniform in shape. Quite a few semi autos do have this provision, often coming with white dots already applied (Hi Power Practical for example).

The pictures here just show how the sights look - mainly for reference as well as perhaps being useful for prospective purchasors to see. The last one is showing the effect of paint application. I used the tip of a tooth pick for the job - the paint is thick and it is best to simply transfer one small ''blob'' on the toothpick point to the area of chosen application. Preliminary local degreasing is essential for a good key.

I chose to use green for rear and yellow for front - orange and red are also available I believe. In practice, once fully dry and cured, this paint has been very resistant to carry and thus far is still present.
---
Appearance of R9s rear sight.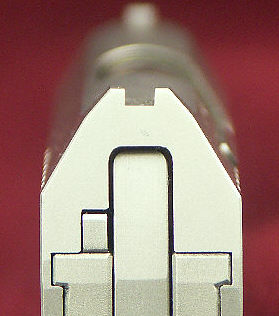 ---
R9s blade foresight appearance.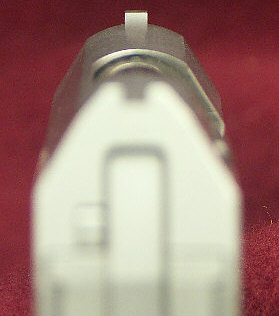 ---
The actual sight picture to be had from the R9s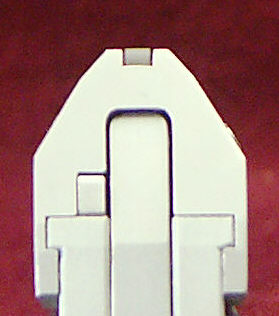 ---
Application of Bright Sights paint to aid sight picture aquisition. This was applied by hand and was not quite as tidy as the pic' shows but close to it .... a bit of digital cleaning up makes it look better.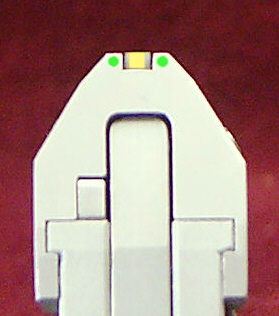 ---
Back to Top