If no menu
or buttons show
ensure you have
scripting enabled


Please give time
for menu to load



Duane's Factory Visit - October 2004

Whilst this feature is written up on the Rohrbaugh Forum as a thread, the pictures are very large to download plus, it seemed useful to archive this as well, seeing as it is a most informative look into the Rohrbaugh original ''inner sanctum''!

Note - this is of course the old Farmingdale factory - the company has for most of 2005 been relocated to Deer Park, a bigger and better facility. I hope we can have a new factory tour from there eventually.

The text is reproduced as in the original................
---
Part I

The Rohrbaugh Firearms factory in Farmingdale, NY is just a 45 minute train ride from Mid-town Manhattan.

I was lucky enough to have an invitation to visit on October 6, 2004. Eric Rohrbaugh was waiting for me at the train station in Farmingdale. I recognized his voice - he was answering customer calls on his cell phone! The factory is a nice, modern, high-security, but very non-descript building in an industrial park.

Here is a picture of Eric and Karl in front of the building: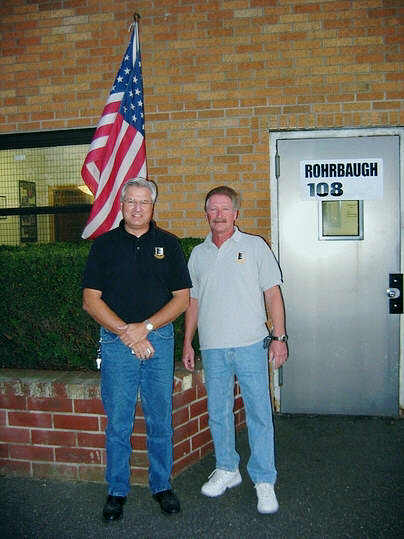 ---
Inside the secure front door is a small office. The desk you see is Maria's desk - but she wasn't there. (No that is not a photo of her on the left!).

On the walls are lots of R-9 promotional materials, photos from the SHOT shows, etc. There are also photos of Eric and Karl's family dating back several generations.

The Rohrbaugh crest used in their logo is an authentic family crest in use for many generations - not just a marketing gimmick.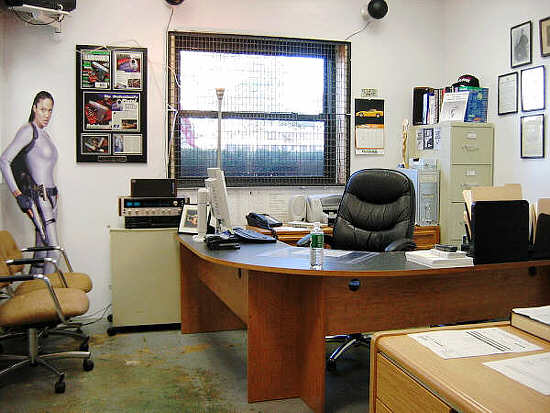 ---
Eric also has a small desk up front where he fields phone calls and works on the computer. Note the reading material on screen!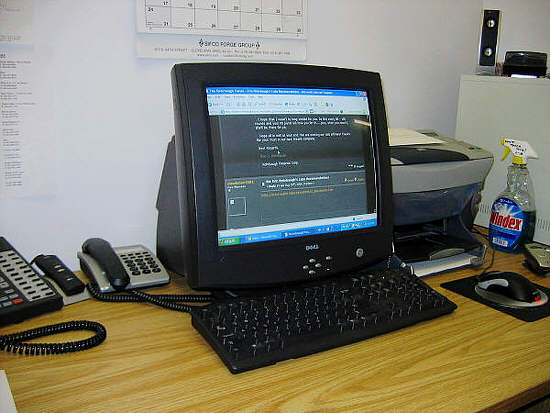 ---
Moving back farther into the factory is a metal detector - and a nice welcome: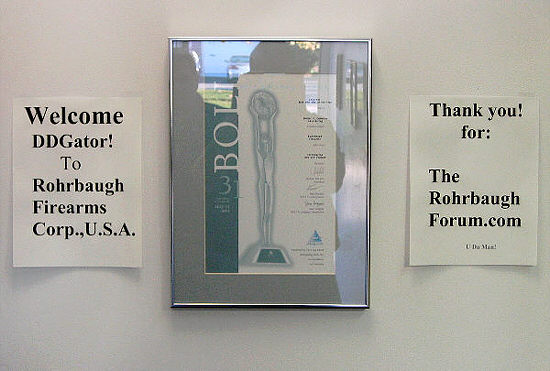 ---
The hallway opens into the largest room in the factory, which contains the majority of the machining equipment. This is where the slides, barrels and frames are made. I will probably get some of this wrong, but here is the process as best I can recall.

An R-9 starts as three blocks of metal (two stainless steel, one aircraft aluminum) that are cut, shaved, drilled, filed, polished, bead blasted and anodized into a high quality handgun. The frames, of course, are aircraft grade aluminum. Here is a picture of some of the aluminum blocks.

Each block will become two frames. The holes you see are cut by the metal supplier and are for mounting the block inside the machine for processing.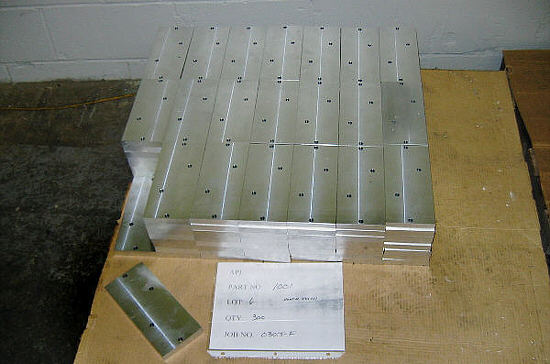 ---
---
Back to Top