If no menu
or buttons show
ensure you have
scripting enabled


Please give time
for menu to load



R9 Lubrication Recommendations
The Rohrbaugh R9 is very much a ''thorobred'' pistol. Tolerances are tight and should stay that way - the means of achieving this is by correct application of lubricant, to ensure both reliability of performance as well as longevity.

Please note - lube' recommendations have changed - see the page with latest disassembly/lube manual scans. I will leave the information below for reference purposes as it still shows the areas that must receive lube' attention. I still feel Superlube is a good product and might continue to use it or similar on stressed areas such as the barrel lug slot - but for slide to frame lube' - definitely good quality oil.
---
Here is the description of the process from Eric:

"...the best way to ensure the reliable function, as best we can with this firearm due to the extremely close tolerances used in it's manufacture, it is best to take the slide off after every 50 to 80 rounds and give it a wipe down and some fresh lube. The R9 is a specialty built firearm and it needs that extra bit of care, due such a machine, to be ready when you need it. This extra care will pay off with dividends!
We use 'Super Lube' PTFE on the rails, the lockup area of the barrel, a little bit on the cone of the barrel (front bushing area if you will) and the barrel lug area itself. Other areas use Mobil One Synthetic motor oil 0-30 weight. This is good for the trigger pivot area, firing pin, magazine latch area and hammer area. Do this and she should perform very well for you.
Most of the guns returned to us for warranty repair have all been absent of lubrication and dirty beyond belief! We simply cannot believe it."...
Eric Rohrbaugh / 4 October '04

Eric has also sent some pics showing exactly where the SuperLube should go ... and it is planned that in the near future, this information will go out with new guns.
---
The barrel - lube can be easily ''painted on''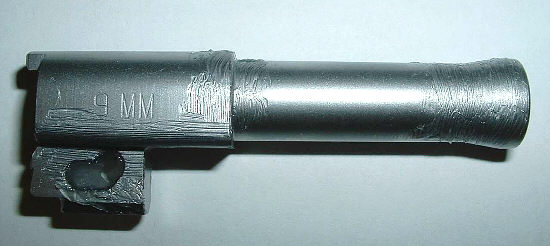 ---
Lube applied to the frame rails - this will of course transfer in part to the slide rails after reassembly.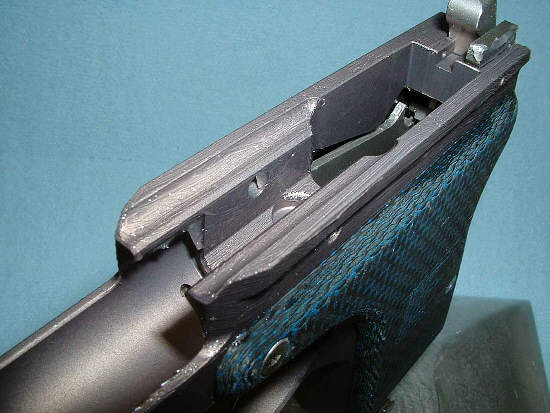 ---
A further view of the frame with rails lubed.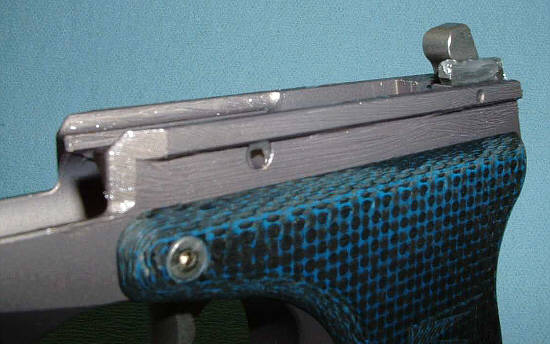 ---
Information on the obtaining of SuperLube .......... from the manufacturer -


''Super Lube is presently being offered to both the industrial and the consumer classification of trade. If this is for your personal use please visit Tru Value or Ace hardware. They should stock most of the Super Lube sizes. You can also try Kmart. If you are unsuccessful you can once again visit our website

And click on the top left on "orders" than click "consumer" than "order on line". Just three clicks and you will be offered a menu of the various Super Lube items that you can purchase directly. Simply select the item you are seeking and add it to the cart. If you are an industrial end user please reply to me again and we will offer you the name of some national branch accounts presently selling Super lube.''

Sal Randisi
Super Lube/Synco Chemical
800 420 5823 Toll Free
919 542 1755 Office
516 982 5587 Cell
~~~~~~~~~~~~~~~~~~~~~~~~~~~~
Doctordun on the forum also posted .....

''Best price and free shipping for Super Lube that I've found:'' AAA Industrial Supply


Doctordun also received a reply to his query regarding a stated 24 month shelf life .......

"Thanks for your interest in Super Lube® Grease. I'm pleased to hear that it is recommended by Rohrbaugh for use on their guns.

The reason we post a 24 month shelf life on our products, is to prevent a distributor from returning overstocked merchandise for credit. The grease does not go bad. It does not turn rancid, dry out, or degrade in any way. I have used grease from tubes that were filled over ten years ago without problems. The main concern is to prevent contamination from storage in open containers.

Super Lube® is available in Ace, Tru Value, Motion Industries, Sid Tool (MSC), and if you still have trouble finding it, try Radio Shack. They carry it under the Archer brand as "Lube Gel" in a 3 oz tube.

Thanks again,

Bill Reilly
Operations Manager
Synco Chemical Corporation"
---
A takedown picture scanned from the manual can be found here.
Back to Top