This is a screen grab of the forum reply window. The arrow points to the icon which brings up [img][/img] tags. It is within these that an image URL should be placed. Try and leave two lines clear between your image and any text, it looks better.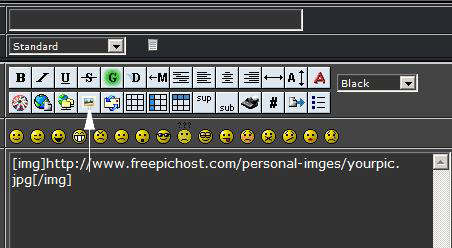 Apart from your own personal pictures the same method can be used to show pictures from other sites, as long as they permit ''hot-linking". If you right click on a picture and look at ''properties'' this will give the URL of the image and then if that is highlighted you can right click ''copy'', then ''paste'' that information between [img] tags.

Note though - sometimes pictures are intended to open in a JScript window and then the properties URL will not work between image tags. You should generally look to be see the end of your desired image URL, to have the image file showing such as ''mypic.jpg'', or perhaps ''my pic.gif''.

Anyone interested in finding out more about digital images in general, go to my site IMAGE MATTERS - where I give some info' on numerous aspects, including posting, although that is actually specific to the last version of VBulletin and the High Road forum.