If no menu
or buttons show
ensure you have
scripting enabled


Please give time
for menu to load



Magazine Parts and assembly
Magazine maintainance is just another aspect of keeping a semi running reliably.

Over time with pocket carry lint can maybe get inside or even a few particles of grit - and these may prejudice operation. Therefore, from time to time it has to be worthwhile dismantling mag's to inspect and clean - good insurance! Perhaps the most critical component for freedom of operation is the follower, if that snags then a feed failure could occur.

Someone brought up the question as to which way the magazine spring should go in, so I thought a picture might help as a reminder.
---
Here are the components laid out, in the orientation relative to their positions. The easiest way I think to remember how the spring goes is to relate the angle of the follower to the angle of the spring end - that angle should be complimentary to both.

I regard this spring as symmetrical and so reversal end to end will not matter, just the correct insertion in the follower.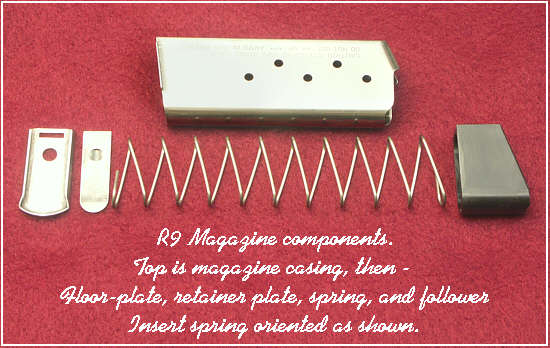 ---
My own thinking on lube and magazines is - don't!!

Some mags will have a white lithium grease on the spring when new but I think to avoid accumulation of crud, things are best left dry, other than perhaps a small amount of dry-lube inside the casing to ensure max freedom for follower.

Goes without saying but - when removing mag' base plate - do watch out for the spring escaping energetically!
---
Back to Top