If no menu
or buttons show
ensure you have
scripting enabled


Please give time
for menu to load



Ammunition Considerations
This is not actually lifted from the forum but just a few suggestions to hopefully start folks on the right track.

In the links column to the left are links which should take you to reports regarding ammunition test results though my first R9 - they are hopefully reasonably comprehensive but here I am just bringing out a few salient points to start you off. I would add also - my tests are hardly conclusive by default - simply results as I saw them, through my own gun, with much of my own interpretation.

Without much doubt - it is generally felt that Speer Gold Dots are right up there, both for reliability as well as performance. Rohrbaugh themselves endorce this. We can also add to these the CCI Blazer aluminum cased 115's, which use the same excellent Speer bullets.

It is considered important for good function - extraction in particular, that cases are seen to have crisp and sharp edged machining around the case rim .... any lack of crisp edge can prejudice extraction as the claw may not get a good enough hold. Subject to correction, I believe that Rohrbaugh consider the CCI brass cased ammo to be in this category.
---
I reproduce again here a few pic's from ammo reports. These are expanded Speer Gold Dot bullets after shooting into wet pack.

It does appear that at this sort of close range, the 115's show a bit more expansion, although as far as muzzle energy is concerned the 115's and 124's are as close in figures as should not matter. I have used 124's for carry thus far but will go over to 115's later.

The images are anotated so you can see what is what. Note however, the Gold Dots in Speer loading were fired at wet pack from a longer distance (approx 6 feet or so) than the bottom pic which shows the Blazer bullets. Those were probably only 4 feet away.

I think most would agree - these are very satisfactory results and, although I have no proof thus far to support it - consider these bullets will be less prejudiced by clothing impaction, than some other hollow points.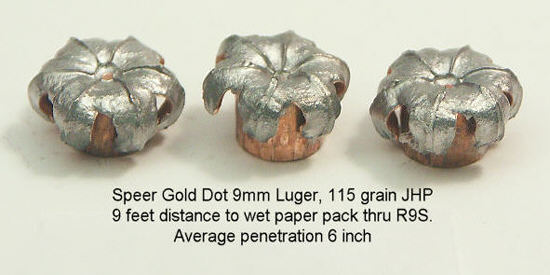 ---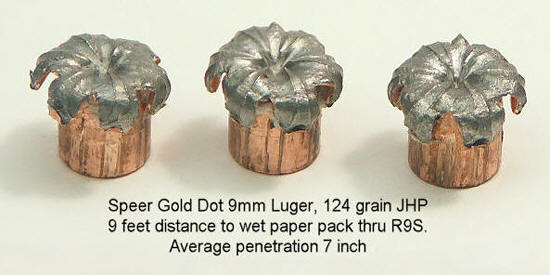 ---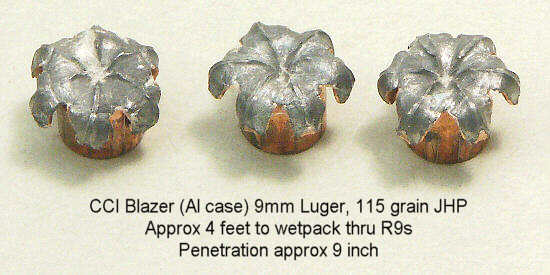 ---
Back to Top